Our practice accepts insurance from the following companies.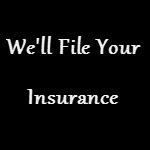 We are a Delta Dental provider.
We will file any insurance as a courtesy to you, as long as your insurance company will allow you to see the dentist of your choice. We are also a Delta Dental Provider.
Maximize your dental insurance benefits
At Michael L. Kinsley, D.M.D. we aim to maximize your insurance benefits and make any remaining balance easily affordable. Perry area dentist Dr. Michael Kinsley and his knowledgeable staff can help answer any of your insurance questions.
We accept most insurance carriers. Please check with us prior to your appointment, but it's safe to say we likely accept the type of insurance you carry.
Oral conscious sedation: turn many appointments into one
With oral conscious sedation, Perry area sedation dentist Michael Kinsley, D.M.D. is medically able to attend to your dental needs for a longer period of time. This means you can combine all or many of your dental appointments into one. If you are in need of extensive dental work or multiple treatments are necessary, oral sedation dentistry may be the most efficient and hassle-free option for you to consider.
Natural-looking partial dentures
Michael L. Kinsley, D.M.D. offers natural-looking partial dentures. Perry area dentures dentist Dr. Michael Kinsley uses the latest technology to produce materials custom-blended to your skin, hair and eye color. You'll look like you were born with perfect teeth.
Non-surgical preventive gum therapy
If you suffer from periodontal disease or want to make sure you avoid it, Perry area gum disease dentist Dr. Michael Kinsley offers the solution with non-surgical preventive gum therapy. Look and feel your best with healthy gums and an attractive smile.
Quality, individualized care
You're unique, and you deserve quality, individualized care. Dr. Michael Kinsley believes your dental experience should blend the best of the personal and the professional. At Michael L. Kinsley, D.M.D. in the Perry, Georgia area, we take the time to get to know you and understand your dental needs. Dr. Kinsley and his staff are dedicated to providing you with top-quality dental care designed exclusively for you.