How To Fill Spaces Between Your Teeth With Dental Veneers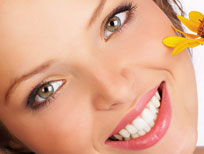 Gaps between your teeth may be considered by many as unattractive and make you feel self-conscious about your personal appearance. If you have spaces between your teeth, and you want to do something about them, talk to your cosmetic dentist about the latest in orthodontics and other aspects of restorative dentistry. However, before you can make a decision on which cosmetic dentistry treatment is the right one for you, it is important to know what causes spaces between teeth.
The Origin of Gapped Teeth
Each person is unique, and no one case presents a definitive reason why a space is present. Genetics can play a major role in how teeth form in your mouth. If your parents have spacing between their teeth, it is a good chance that you will also.
Childhood habits largely affect the position of your teeth as well. Breathing mostly through your mouth and sucking on your thumb are examples of habits that will affect the position of your teeth.
Adults can also have habits, like forcing their tongue against their upper teeth or pen biting, that can gradually shift teeth throughout life. When the teeth shift, spacing or even jaw joint pain can occur.
How to Correct the Spaces Between Your Teeth
There are four ways to correct the spaces between your teeth. Diagnosing the reason the spaces are present will determine which of the treatments will best suit your needs.
Gaps between teeth can be filled by:
Orthodontics moving the teeth)
Bonding (bonded tooth-colored fillings)
Dental Veneers/Laminating (bonded porcelain facings)
Dental Crowns (capping)
Placing braces on your teeth in order to move them into their correct position is usually the most ideal treatment. Using orthodontics to move the teeth is the most time consuming, but it is also the most beneficial. Orthodontics is used to place teeth so that your bite is in harmony with your smile.
All of the other treatments to fill the spaces, including tooth bonding, dental veneers like Lumineers, and dental crowns, although they are very good treatments, are considered esthetic and functional compromises, and should be discussed with your cosmetic dentist in order to determine which restorative dentistry treatment is best for you.
By Benjamin O. Watkins, III, DDS
Dental Crown Lengthening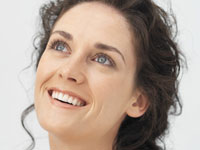 There are two reasons why individuals need a dental crown lengthening procedure: to properly restore a tooth or to make a "gummy smile" more attractive and cosmetic dentistry can help with both.
To properly restore a tooth, several millimeters of healthy tooth structure must be available above the crest of supporting bone. However, this often is not the case when teeth are fractured, severely decayed, or worn. If enough tooth structure is not available, and the restorations are placed too close to the bone, the body reacts by creating a chronic inflammatory reaction that can create red, swollen, and sensitive gums. The gums can bleed easily and even become painful. Eventually, the inflammatory reaction may lead to bone loss around the tooth. To prevent these problems and to properly restore the tooth, the patient should have a dental crown lengthening procedure before restorative treatment.
The gummy smile may be the result of gum tissue growing over teeth that are of proper size. Often times teeth that appear small are, in fact, normal-sized teeth that are hiding under excess gum tissue. Dental crown lengthening removes the excess gum tissue and establishes a more appealing gum line.
What to Expect from Dental Crown Lengthening
Dental crown lengthening is a surgical procedure in which gum and bone tissue is removed from the circumference of the tooth. It is done in the dentist's office with local anesthesia (lidocaine). One or several teeth can be treated at the same time. After carefully reshaping the gum and the bone to expose healthy tooth structure, stitches (sutures) are placed to aid in healing. The stitches are usually removed five to ten days after the surgery. Follow-up appointments are scheduled as necessary to evaluate healing and plaque control. The gums should be allowed to heal for six to eight weeks before making any new restorations. At that time, the gums are more stable and better esthetic results can be achieved.
Post-surgical discomfort can last a few days and is usually minimal. It can be easily managed with commonly available over-the-counter medications such as aspirin, acetaminophen, or ibuprofen. Patients can expect to follow their normal routine the day after surgery.
Benefits of Dental Crown Lengthening
Crown lengthening is recommended to properly restore a broken down tooth or to improve the esthetics of a gummy smile. If a general or cosmetic dentist does not frequently do surgeries, he or she may refer the individual to a periodontist who specializes in dental crown lengthening.
By Laura Minsk, DMD